About MIRANIT
---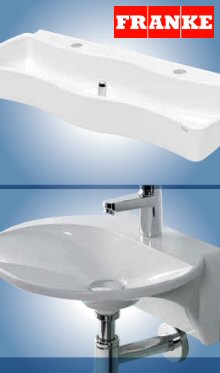 What is MIRANIT?
Franke Washroom Systems offer a fantastic alternative to stainless steel with the contemporary and modern MIRANIT washbasins. MIRANIT is a stable compound consisting of approximately 80% natural minerals such as calcium carbonate and quartz as well as approximately 20% of a high-quality unsaturated polyester resin. The stable and fracture-resistant material has a smooth, pore-free and high-gloss exterior skin. The Gelcoat layer that provides the Alpine White colour is easy to clean, impact resistant, non-abrasive and offers good resistance to alkaline and acids. Even water temperatures up to 80°C will not harm the Gelcoat surface. Franke offer MIRANIT washbasins of various size and shape, including children's products such as the GAMBA and LUNA models or nursery wash basin module or baby change station.
What are the advantages of MIRANIT compared with other sanitary ceramics?
Sanitary products manufactured under the brand name MIRANIT can be classed under the generic term of "cast mineral products". Compared to other cast products such as ceramic sanitaryware, MIRANIT products have the following advantages:
• Higher stability in terms of impact resistance and being shatter-proof.
• Clean shapes with good design and the use of small radii.
• A total length of 3.60 m can be achieved for niche washbasins.
• Damaged surfaces can be mended with special repair kits.
How can MIRANIT be cleaned?
The Gelcoat surface of MIRANIT is dirt repellent and particularly easy to care. In most cases a damp cloth is completely adequate for cleaning the washbasins, multiple washing facilities and cleaning basins. More serious soiling can be removed with mild, non-scouring cleaners. This also applies to colour pencil traces, shoe polish, ink, iodine solution and lipstick. Stains that could result from burning cigarettes, for example, can be removed with a polishing paste. For a sustained shine it is recommended to occasionally rub MIRANIT equipment products with commercially available car polish and then immediately re-polish the treated surfaces. Any damage to the surface can be mended using a repair kit (ZANMW904) with which almost invisible repairs can be accomplished.