Since we started this independent private company in 2001, Gentworks has kept it simple, supplying a range of trusted and readily available commercial washroom products supported by a professional team that understands them well.
Tried-and Tested Products: We trial and compare new products all the time and only choose the ones we think will give you the best value and performance, as well as being available for timely delivery.
Low Prices/Great Value: We've gone from strength to strength and have worked hard to keep our prices down by using our volumes to negotiate the best supplier discounts and by paying suppliers quickly. We import or even design and manufacture products when we can't find a suitable alternative. We never sell products that we don't have confidence in or that we think are poor quality or bad value.
Prompt Delivery: Our most popular items are usually in stock at our warehouse, but if they're not, we have long-standing agreements with our manufacturers and distributors. So you'll get your order quickly and with a minimal carriage charge, typically just £10 per consignment.
Expert Friendly Support: Our engineers have first-hand experience of most of our products, and our customer service team also understand them very well. So if you're not sure which products to choose, call us on 0345 202 4535 or email support@gentworks.co.uk. We'll be happy to help both before you buy and afterwards.
Design and Manufacture: Some of the products on our website are manufactured specifically for Gentworks according to our, or your, specifications. These include stainless steel urinals, waterless urinals and wash troughs, as well as some ceramic urinal bowls and drinking fountains. Like the standard products we choose to resell that are made by others, Gentworks branded products are high quality as well as great value. We know that if we put our name on it, our reputation is even more at stake. All Gentworks branded products are made in Europe, mostly in the UK.
We are constantly improving our productivity and customer service levels through the ehancement of our internal systems, procedures and expertise, allowing us to become increasingly competitive as sales volumes grow.
Interested in Waterless and low-flushing urinals? If so, go to our specialist site, www.waterlessurinals.co.uk
Gentworks is more than an online shop and is well known for its water saving products and services. We supply, install and service waterless and low-flushing urinal products to hundreds of customers, helping them to save money and reduce maintenance problems.
Save water, save money, save the environment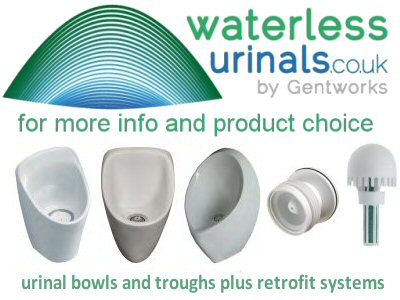 If you have urinals, you'll know that flushing them can use more water than anythings else on site. But you have a dilemma:
if you flush constantly, the urinal may not block but you'll have a big water bill
if you never flush, the urinal will smell and block frequently and you'll have big maintenance bills
With Gentworks waterless and low-flushing urinals, you can reduce or, even better, stop flushing, without any unpleasant or costly side effects. They'll help you:
use up to 95% less water
save 75% on maintenance costs
reduce your water bill by 25-50%*
*The actual saving will depend on how else you use water at the site.
Our engineers based near Sheffield, Rugby, and Oxford are available to implement water saving systems, as they've already done for Canary Wharf, Thames Valley Police, West Mercia Police, Ricoh, Standard Chartered Bank and many other large organisations. Smaller sites usually prefer to organise the works themselves - our products are simple to use and detailed guidance is readily available. If you need support, our experts are easily contactable over the phone at 0345 202 4535 or support@gentworks.co.uk.