About-GW6 Urinals
---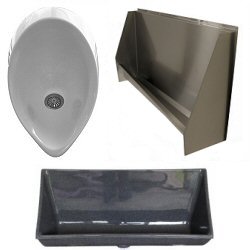 Key Benefits
replaceable valve core typically lasts for at least 6 months, often as long as a year

no sealant chemicals required

unique dual valve technology for added protection against odours

no special tools required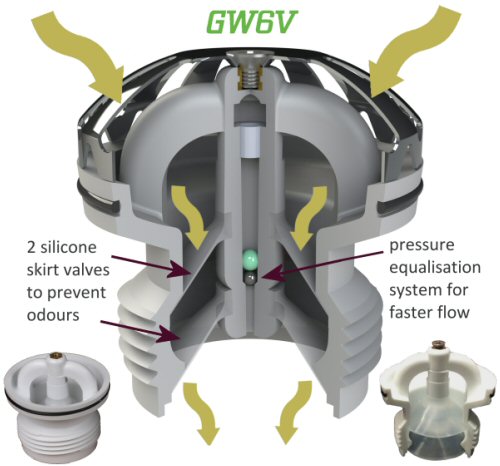 About the GW6 valve core - how odours are prevented
The replaceable core of the GW6 features:
dual silicone skirts to prevent odours and backflow
skirt design allows for hair and other small debris to pass through easily, thus maintaining the seal
simple screw fitting, only a crosshead screwdriver required
easy to clean with water or cleaning chemicals
low frequency replacement cycle of a relatively small component, therefore less impact on the environment
How to prevent blockages in waterless urinal waste runs
Gentworks recommends dosing/sluicing urinals fitted with the GW6 valve, approximately once every 2 to 4 weeks, with a solution of Bactericidal Cleaner mixed with warm water from the washroom hot tap,
All urinals are prone to blockages, whether waterless or not. The advantage of waterless urinals over flushed urinals is that there is no limescale from water to combine with urine to form a hard scale. Nevertheless, uric acid crystals and sludge can form, particularly where debris and hair has fallen into the waste pipes and the flow of urine alone has not been able to flush such obstructions away to the main drain. In a washroom with new waste pipes configured perfectly, the flow of urine itself can be sufficient to keep the pipework clear. However, a simple act of preventative maintenance such as dosing/sluicing with Bactericidal Cleaner dramatically reduces the chance of a blockage in all cases.
Gentworks recommends regular dosing/sluicing for all our waterless urinal systems that do not use a liquid seal. For waterless urinals with a liquid seal, sluicing could break the seal and is therefore only recommended during servicing or a cartridge change.