Low Flush Urinal Cistern Timer (1-15 hour) Cistern Purge
This Low Flush controller can initiate a flush every 1-15 hours so that the standing water in the cistern and flush pipes will be regularly 'purged', thus usually avoiding the need to carry out a dead-leg procedure to minimise the risk of legionella.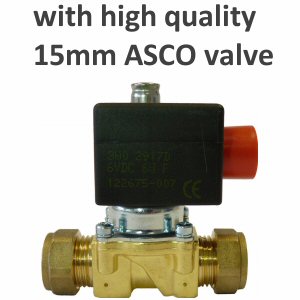 Includes:
- flush controller box to affix to wall
- solenoid valve for connection to water supply
- 6v lithium battery (ref D058) or power transformer depending on chosen option.
- leads for connecting the various components
Features:
- typical savings of 95% on water costs
- flush frequency can be set between 1 and 15 hours in 1 hour increments.
- extremely reliable and low maintenance
- very low power consumption - typical battery life of 5 years (battery model)
- single valve output
- valve open button
- adjustable cistern fill time (15 mins 45 sec max) in 15 second intervals.
- box style may vary from illustration.
- transformer to connect to mains electricity supply (mains model)