Gentworks Low Flush Urinal Cistern Timer (1 to 15 hour)
The Low Flush (FCV01) is made for use in conjunction with the Gentworks Urinal Maintenance Device or similar urinal sleeves/inserts. Together, these products allow urinal flushing to be reduced to every 4 to 12 hours without compromising hygiene, causing bad odours or increasing maintenance costs. For more details on this method of urinal water saving, please
click here
to go to the relevant section of the Gentworks website
www.waterlessurinals.co.uk
.The FCV01 can also be used where very low flush frequency is required.
Includes: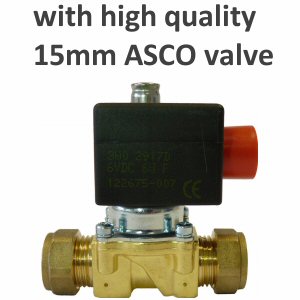 - flush controller box to affix to wall
- solenoid valve for connection to water supply
- 6v lithium battery (ref D058) or power transformer depending on chosen option.
- leads for connecting the various components
Features:
- typical savings of 95% on water costs
- flush frequency can be set between 1 and 15 hours in 1 hour increments.
- extremely reliable and low maintenance
- very low power consumption - typical battery life of 5 years (battery model)
- single valve output
- valve open button
- adjustable cistern fill time (15 mins 45 sec max) in 15 second intervals.
- box style may vary from illustration.
- transformer to connect to mains electricity supply (mains model)