Single User Wall Mounted Wash Trough
Single User Wall Mounted Wash Trough 500mm
Width: 500mm Projection from wall = 410mm Height = 215mm (including 50mm high splashback)
Trough Depth = 165mm max.
This wash trough, suitable for one user and can be installed spaced apart to help maintain social distancing. Finished-to-order in the UK and manufactured in one piece without joints or crevices from grade 304 austenitic stainless steel, 1.2mm thick, with a smooth satin polished non-reflective surface. (Taps are shown for illustration purposes but are available as options.)
Pack Includes:
- 500mm Wash Trough with centre drain and tap holes drilled, if required
- 38mm (1.5") BSP Unslotted Flush Grated Waste Outlet fitting
- Mounting screws
Please take care in selecting the options you require. These wash troughs are finshed to order and we regret that no order cancellations can be accepted once manufacturing has commenced.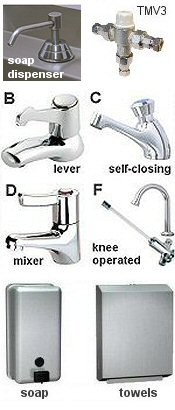 Front Support Legs: The wash trough is designed to be wall-hung some buyers choose to add front support legs, to give extra strength f there is concern that the wash trough could be sat upon or leaned on heavily, and the front will not be supported by a panel, then legs are recommended.
Thermostatic Mixing Valve (TMV3): For premixing hot and cold water to a consistent comfortable temperature, a TMV3 valve is required. It is also recommended for wash troughs with both cold and hot taps, to help prevent scalding. As an option, a 2-in-1 TMV3 from Dart Valley Systems can be supplied. Click here for details.
Tap Hole Type: There is a choice of tap hole configurations to fit standard tap singles and pairs plus monobloc mixer taps.
If you require a tap hole configuration not shown as an option, please select "Special requirement". Then provide a specification in the Tap Holes - Special Requirement text box. Alternatively, please call us on 0345 202 4535 to discuss.
Stainless steel soap dispensers: Click here for details on the soap dispenser model offered at a discount with wash troughs.
Stainless steel paper towel dispensers: Click here for details on the towel dispenser model offered at a discount with wash troughs.