GRP Drinking Fountain - Wall Mounted - Grey Granite
This wall mounted drinking fountain is constructed from Glass Fibre Reinforced Polyester Resin, the same tough material often used for boat hulls.
The smooth rounded design eliminates sharp corners which could cause injury, while the gel-coat finish is resistant to staining and damage as is easy to clean without the need for strong cleaning products. The drinking fountain is also corrosion resistant making it more suitable than stainless steel for chlorine or salt water environments.
It can be installed at adult or junior height and features a 255mm high under-shroud and baseplate to conceal the water supply and waste connections to deter vandalism.
Each drinking fountain is supplied with a 32mm flush grated waste fitting and a chrome plated shielded bubbler (or swan-neck bottle filler) complete with a self-closing push button valve. The valve incorporates a flow adjuster and strainer and is supplied with a water inlet fitting to suit 15mm diameter pipework.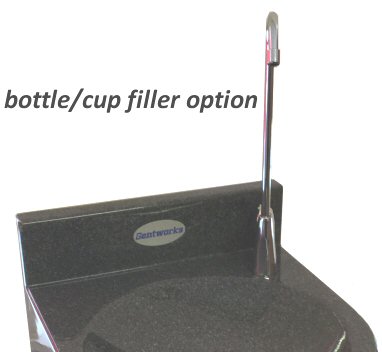 Width:
300mm
Depth: 350mm (projection from wall)
Height: 300mm (including 75mm high rear upturn and undershroud but excluding dispenser)
Weight: Approx 1.5kg
Material Thickness: 9mm
Dispenser type option: standard bubbler valve with the option to add a self-closing push button valve fitted with a 255mm high, chrome plated, fixed brass swan-neck spout. Water only flows whilst the button is depressed. For safety reasons, glass/bottle fillers are not designed to withstand heavy impact and should only be installed in areas with supervision or low risk of vandalism.
Optional but recommended is our
Mains water connection kit
designed for aiding the connection of drinking fountains to a mains water supply pipe. Protects the drinking fountain by preventing the maximum pressure rating being exceeded. Double check valve prevents backward flow of liquid